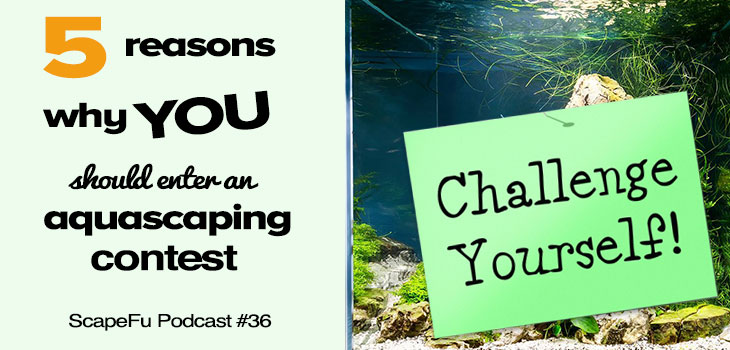 Aquascaping contests are NOT just for the professionals or very experienced aquascapers. There are many reasons why you should enter an aquascaping contest. In episode 36 of the ScapeFu Podcast, we share with you the top 5 reasons why we think you should enter.
The Reasons
Builds your character by challenging you to do your best. It pushes you to be more disciplined. Self esteem. Teamwork!
The awards! Everyone loves goodies and, heck, you may win enough to offset the cost of the aquascape you submitted.
Recognition for yourself and helping to expand the popularity of the hobby.
The award ceremony or party like the ADA NA Party. But no EAPLC Party this year??
Feedback from very experienced aquascapers!
Comments from Facebook friends
George Farmer, Stu and Giuseppe ask us questions via Facebook. Jurijs gives a great tip about how to get your plant ready for the final shoot before submitting to a contest.
The Ask Art Podcast
Please submit your questions to the new Ask Art Podcast where I answer your questions once a week.
Some of the popular aquascaping contests
YOU!
What do you think? Any other reasons to enter an aquascaping contest?
Do you know of any other aquascaping contests? Let us know and we'll add it here!
Subscribe to the ScapeFu Podcast!
If you are listening to the podcast on this page, there's a BETTER way! You can listen to the podcast on your smartphone or digital music player. And, it will get automatically delivered every time we release a new episode.
If you use iTunes, subscribe on the iTunes store.
If you use an Android, subscribe via the Stitcher app.
LIKE WHAT YOU'VE READ?
Join the ScapeFu Tribe!
Please join over 1,000 people who receive exclusive weekly planted aquarium and aquascaping tips, tutorials and the Aquascaping School Weekly newsletter! Click on the orange button!