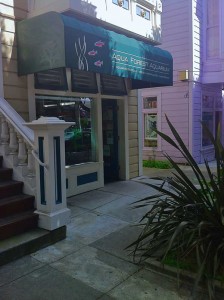 I recently had a rant on the sorry state of aquarium plants in the US. This rant does not apply to the this idyllic version of the local fish store. Nestled in the middle of a quiet street in otherwise bustling San Francisco, sits Aqua Forest Aquarium (AFA). Started by George and Steven Lo, AFA is an importer of Aqua Design Amano products and is dedicated to the nature aquarium concept. It's a unique place for the planted aquarium hobbyist.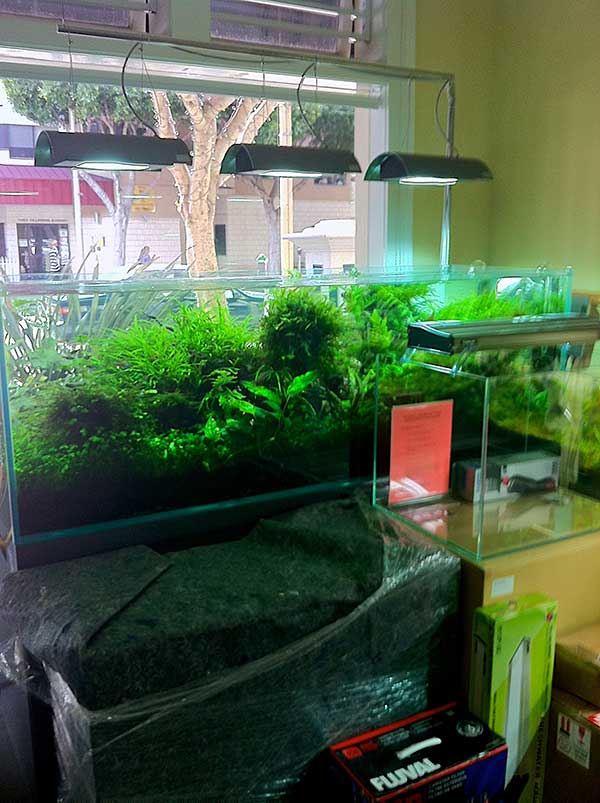 As you walk in, you're immediately greeted by a wonderfully aquascaped aquarium. It's healthy. Very healthy and lush. No melting plants. No sickly fish. It's stunning. It's obvious that the Lo boys know what they're doing and that this place is serious nature aquarium shop.
Across from the large aquarium and surrounding the checkout counter are a number of smaller different size aquariums that are also in great shape. I loved the LED lighting on them. Of course, ADA NA products are everywhere. Brighty Series fertilizers in the display cabinet. Cube Garden aquariums on the floor. ADA tools and Do! Aqua products hanging behind the counter. If you're a fan of ADA, this place will make you just a little bit giddy with excitement. You will smile awkwardly as you secretly hold back the urge to make a swan dive into all the products.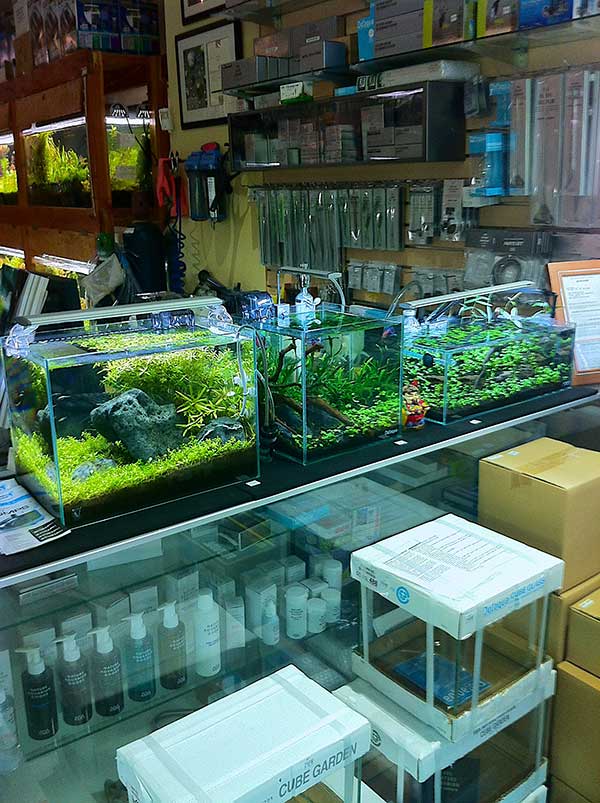 As you continue down into the store, you pass more examples of nature aquariums masterfully aquascaped by the owners. I can't emphasize enough the healthy state of the plants in every aquarium I saw. This is what I expect a pro shop would be. The owners actually take pride in what they sell and they know a heck of a lot about it.
This is what other LFS should aspire to. I understand that not every one of them can focus only on freshwater to turn a profit. However, if you're going to have freshwater, you need to try to emulate the Aqua Forest Aquarium. They are doing it right.
I did not take pictures of their fish and plant aquariums out of respect for their privacy. After all, I don't want to give away all their secrets. You are just going to have to go there and see for yourself the next time you're in San Francisco. But, suffice it to say that I was again stunned at the health, quality and variety of plants they have available for sale. If I didn't have to stay in San Francisco a few more days, I would have dropped a bunch of money on plants that day.
I briefly spoke to the staff and found them to be knowledgeable on their plants and products. Like any good LFS employee, they were busy doing water changes and making sure things are clean. However, they stopped what they were doing and came over to ask if I needed help.
I also got a change to chat with Steven Lo for a short time. He mentioned that the tanks needed a little pruning. I nodded to acknowledge his comment and hide the fact that I thought they were in show form. He should see my aquarium back home! It's obvious their standards are much higher than mine.
Overall, I can't say enough good things about Aqua Forest Aquarium. They are doing it right and are an example of what a LFS that focuses and cares about the freshwater hobbyist should be. We need more examples of this. Many more.
If you live in San Francisco, you're very lucky. You have a gem in your area. I'm sure you know it and keep it secretly to your self. If you haven't been, why the heck not? You need to make sure they stick around.
LIKE WHAT YOU'VE READ?
Join the ScapeFu Tribe!
Please join over 1,000 people who receive exclusive weekly planted aquarium and aquascaping tips, tutorials and the Aquascaping School Weekly newsletter! Click on the orange button!