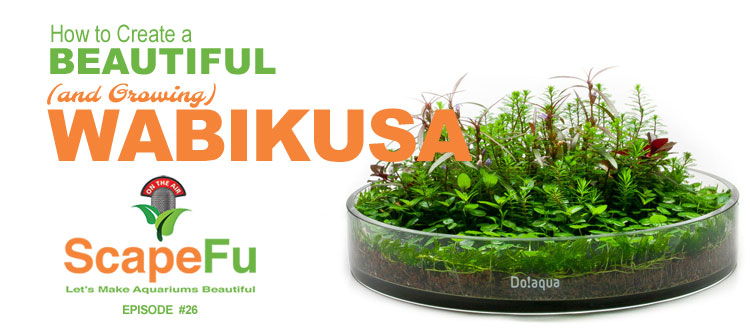 This week we go outside the aquarium to teach you the naturally beautiful art of Wabikusa.
Wabikusa is derived from the Japanese concept of wabisabi. Wabi connotes rustic simplicity, freshness or quietness. Sabi is beauty or serenity that comes with age, when the life of the object and its impermanence are evidenced in its patina and wear.
In today's Japan, the meaning of wabi-sabi is often condensed to "wisdom in natural simplicity." In art books, it is typically defined as "flawed beauty. Combine it with the word Kusa that means "grass" in Japanese, and you begin to understand what is meant by wabikusa.
IN THIS EPISODE YOU'LL LEARN:
What is wabikusa and how is it different than immersed culture?
How to create the perfect wabikusa:

What ingredients go into the wabikusa ball and how to do it yourself?
What plants can be used in a wabikusa?
How do you attach the plants to the substrate ball?
LINKS AND RESOURCES MENTIONED IN THIS EPISODE:
 
THANKS FOR LISTENING!
Thanks so much for joining us again this week. Have some feedback you'd like to share? Leave a note in the comment section below!
If you enjoyed this episode, please share it using the social media buttons you see at the bottom of the post.
Also, please leave an honest review for The ScapeFu Podcast on iTunes! Ratings and reviews are extremely helpful and greatly appreciated! They do matter in the rankings of the show, and I read each and every one of them.
And finally, don't forget to subscribe to the show on iTunes to get automatic updates! It's free!
We'd love to hear from you about today's topic or anything else. How can we help you?
The easiest way to reach us is via email. Art is at art@scapefu.com, JJ is at jj@scapefu.com and Jurijs is at JS@scapefu.com.
Again, THANKS FOR LISTENING!
Photo in header above is copyright Bart Jaspers
Podcast: Play in new window | Download (35.8MB)
Subscribe: iTunes | Android | RSS
LIKE WHAT YOU'VE READ?
Join the ScapeFu Tribe!
Please join over 1,000 people who receive exclusive weekly planted aquarium and aquascaping tips, tutorials and the Aquascaping School Weekly newsletter! Click on the orange button!