Aquarium Photography: Tutorial for Aquascaping
Learning to photograph your aquascape is like learning how to not kill plants. Your need to do it to improve your aquascaping and make your aquarium beautiful.
In episode 30, we tell you the secrets to taking winning aquascaping photos from famed aquascaper from Portugal, Filipe Oliveira, and professional photographer and aquascaper from the UK, Stu Worrall. Jurijs and I wrap up this pro tip-packed episode with the tips to take your aquarium photography to the next level.
Are you the next Takashi Amano? Go have a listen to learn:
Here's what you'll learn in this aquarium photography tutorial:
Do you need a professional camera or DSLR?
How do you avoid reflections?
How do you avoid shaky pictures?
How do you aquascape for contest pictures?
What time of the day should you take your pictures?
And much, much more
Tips from Filipe Oliveira
Filipe is a professional aquascaper and photographer from Portugal. He's been aquascaping for 13 years and is well known for his stunning tree aquascapes. He's talented and always willing to help.
Here are some of the tips he shared in this episode on aquarium photography:
For contests, you may want to aquascape using your camera
Tripods are not always a necessity
Wear black clothing and cover furniture that might reflect on the glass and take pictures at night with the light off
Practice, practice, practice!
And many more in his 20 minute interview
Filipe's old blog FAAO still has a lot of great info in it. Here's is one of his famous tree aquascapes:
Tips from Stu Worrall
Stu is a professional photographer and talented aquascaper. He's placed very well in the IAPLC, Aquatic Gardeners Association, and other contests. The aquascape in the first image above is Stu's winning entry from the 2012 AGA contest.
Here are some of the tips Stu shared in this episode:
LED lighting is enough light
Don't remove depth with too much light
Find the proper white balance by shooting a piece of white paper first
Stu shares more tips in his 11 minute interview

Tips from Jurijs and Art
We wrap up this aquarium photography tutorial episode with some tips of our own for you. Here are some of them:
Clean your aquarium before shooting, especially the glass
Learn about the concept of luminosity and how a "soft box" can help
Manual control on your camera is better
Remove all filter and CO2 equipment before taking pictures
Remove algae eating fish and consider adding schooling fish shortly before taking pictures
Take pictures about an hour after lights come on unless you want bubbles in your shot
Use a hair dryer to add top water movement but be CAREFUL!
Polish the water before taking photographs using water change, diatom or micron filters, flocculants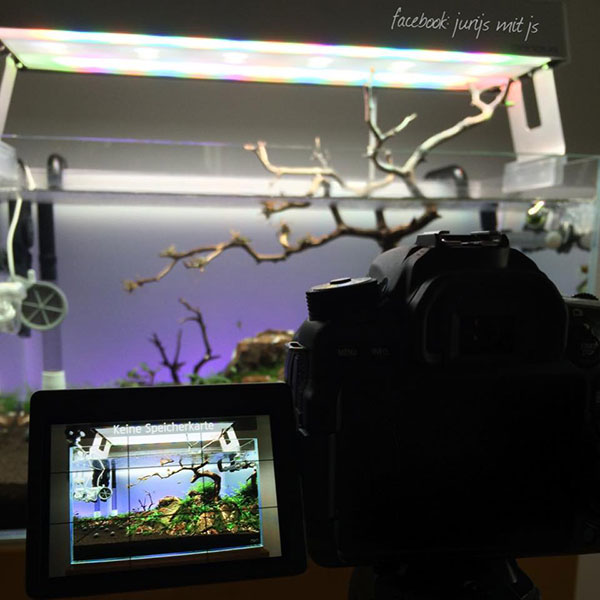 See more of Jurijs' Shrimpscape on his Facebook page.
Additional resources:
Image copyrights from this post:
Aquascape in header image and in Stu's section, Stu Worrall's image, are copyrighted by and used with permission from Stu Worrall
Image of contest aquarium photography is copyrighted by and used with permission from Brazilian aquascaping site – AquaA3
Filipe's image and tree aquascape are copyrighted by and used with permission from Filipe Oliveira
Podcast: Play in new window | Download (0.0KB)
Subscribe: iTunes | Android | RSS
LIKE WHAT YOU'VE READ?
Join the ScapeFu Tribe!
Please join over 1,000 people who receive exclusive weekly planted aquarium and aquascaping tips, tutorials and the Aquascaping School Weekly newsletter! Click on the orange button!