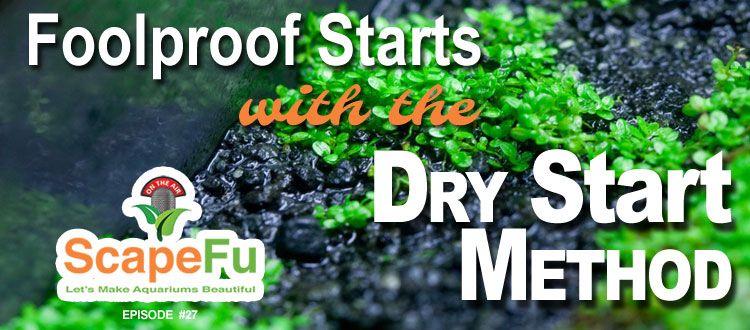 What is the Dry Start Method?
Popularized by Tom Barr back in 2007, the Dry Start Method is intended to solve a problem people have with setting up an aquarium with tiny carpet plants. The problems are:
These plants, like Hemianthus callitrichoides or HC, have tiny roots that are extremely difficult to plant.
There's a tendency to float when you flood the aquarium with water.
HC also needs a lot of light and CO2 to grow well and carpet the aquarium bottom. Pressurized CO2, strong light and clear water are needed to get it established well in the aquarium. Not everyone can start with the right equipment and frequent water changes needed for clear water.
Algae is a risk until HC really takes root.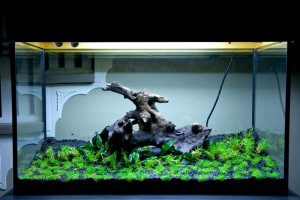 From Tom's article, the benefits of the dry start method are:
No algae
No water changes/loose pieces floating around/being pulled up
No replanting
No cycling the aquarium
No dosing
No fiddling with CO2
No having to buy a lot of plant material initially
No transition from emergent to submersed states(some plants will, but with good CO2, this is greatly minimized)
No extra electrical cost running other equipment during the dry phase.
No labor
Can do it outside in a tray even………
Dry Start Method: 7 Tips for Success
Tips:
Light for full 10–12 hours to power photosynthesis and growth.
Cover with cling wrap or glass or plastic. 100% for a few days then slowly peel corner.
Hills are OK but you may want to pre-saturate. In fact, always pre-saturate. No puddles!
Inert substrates will require liquid fertilizer. Dilute foliar fertilizer
Patience! Resist the urge to flood! Wait 3–6 weeks at least
When flooding, do 3–4 large 80%+ water changes to flush out substrate.
Mould or fungus – H2O2 1:4 with water or Excel straight up
Not everyone thinks the dry start method is the bomb. Niko's post on APC for example. He suggests an ebb and flow system.
Focus on You
Five star iTunes Review! Yay!
The Best! by A_single_non from Australia "Art has come a long way since starting the podcast. He does a good job and is the only current podcast related to aquascaping. Keep it up! I really enjoy them and have listened to all of them."
Barry from South Africa


Hi Art. Thank you for allowing me to become a member of ScapeFu. I've been an avid 'scaper for about ten years now and find your site to be very informative and easy to navigate around. your articles are not only relevant and packed with good practical advice, but easy to understand as well. I found the WabiKusa article very informative and a few tips that I will definitely try on my next one.

Rob


Hi guys, Just wanted to drop you a note and thank you for all of the work you do to share your experience and wisdom. I know the podcast/website is a ton of work to keep going, and is more of a labor of love for you instead of a revenue stream. One thought for topics – let's help a newbie segment
HELP US SPREAD THE WORD!
We would love it if you could please share this episode with your Facebook Followers. We don't advertise so this is the only way we have to get the word out about The ScapeFu Podcast.
If you like what you've heard, please go to iTunes and rate, review and subscribe to the ScapeFu Podcast. It's the easiest way to make sure you don't miss an episode. They will be downloaded automatically to your device to listen to at your convenience.
Ways to Subscribe to the ScapeFu Podcast
Feedback
We'd love to hear from you about today's topic or anything else. How can we help you?
The easiest way to reach us is via email. Art is at art@scapefu.com, JJ is at jj@scapefu.com and Jurijs is at JS@scapefu.com.
Links Mentioned in This Episode and Additional Resources
Image of bedroom dry start method is courtesy of and copyrighted by magpie 
Images used in header, featured image and body of post are courtesy of and copyrighted by DaveSurfer
Podcast: Play in new window | Download (39.5MB)
Subscribe: iTunes | Android | RSS
LIKE WHAT YOU'VE READ?
Join the ScapeFu Tribe!
Please join over 1,000 people who receive exclusive weekly planted aquarium and aquascaping tips, tutorials and the Aquascaping School Weekly newsletter! Click on the orange button!