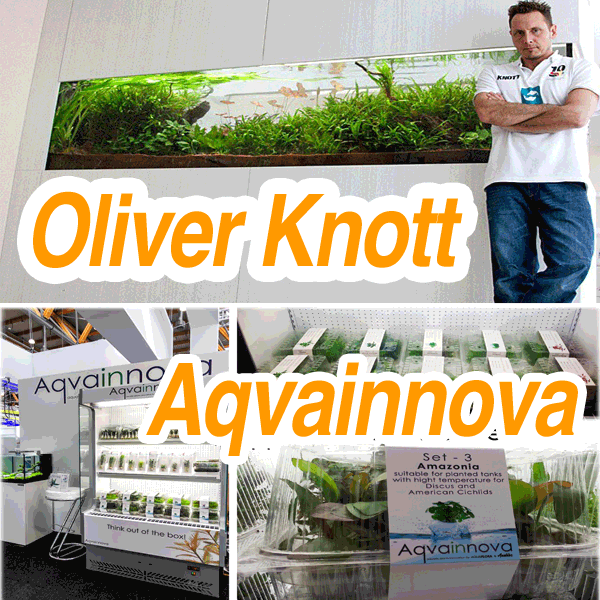 [app_audio src="http://traffic.libsyn.com/scapefu/ScapeFu025.mp3″]
Oliver Knott & Aqvainnova Plants: ScapeFu025
In this week's episode of the ScapeFu Podcast, we have an interview with Oliver Knott recorded at the 2014 Chicago Aquatic Experience and we talk about the new aquarium plants line from Europe, Aqvainnova. Availability of quality and easy-to-get aquarium plants is crucial for the hobby to grow.
News
Aquatic Gardeners Association 2015 Convention in Washington, D.C. April 10-12, 2015. This time the Greater Washing Aquatic Plant Association is hosting. The Keynote Speaker is George Farmer, famed UK aquascaper. There's a Jeff Senske versus George Farmer aquascaping challenge, Tom Barr, Nano competition and more. We hope to see you there!
Oliver Knott and Aqvainnova
We've discussed Aqvainnova before on the ScapeFu Podcast. However, this time we discuss their introduction to the US and how much they are needed!
They come in what look like salad or sandwich clear plastic boxes. And, they even come in combo packs that have what you need to create certain styles like Iwagumi!
Oliver needs no introduction. He's been a professional aquascaper in Europe for years and is one of the most well-known aquascapers around the world.
He's got his own line of products and is very active in the hobby. Check him out at his personal site Oliver-Knott.com.
Focus on You
We got a great email from Heather that we read. She's new and enjoying out podcasts on her way to work. Thank you, Heather! Let us know how it goes!
Give us Feedback
If you'd like to give us some feedback, you have choices:
You can reach JJ at JJ@scapefu.com
You can reach Jurijs at JS@scapefu.com
Lastly, please subscribe to the ScapeFu Podcast so that you won't miss an episode: iTunes and Stitcher
Speak soon! Have a great week!
Art
Podcast: Play in new window | Download (27.9MB)
Subscribe: iTunes | Android | RSS
LIKE WHAT YOU'VE READ?
Join the ScapeFu Tribe!
Please join over 1,000 people who receive exclusive weekly planted aquarium and aquascaping tips, tutorials and the Aquascaping School Weekly newsletter! Click on the orange button!